This CMake training covers in depth how CMake works and how to efficiently write CMake scripts for small to larger projects. The second part of the training covers unit testing with CTest, packaging with CPack and continuous integration with CDash.
This CMake training mixes theory and application with a set of tutorials and exercises.
Objectives
Configure simple and complex projects with CMake
Understand the basics of CMake (variables, cache, flow, etc.)
Experiment unit testing with CTest
Package full applications with CPack
Setup a continuous integration platform with CDash
Quickly get up to speed with the various tools: CMake, CPack, CTest and CDash
Prerequisites
C/C++ : Basic knowledge
Day 1
Getting Started with CMake

CMake history
Use the tool to configure projects in a totally cross platform manner
CMake's major features
CMake pipeline configuration

Setup projects with CMake

CMake syntax: variables, cache usage, and workflow management
Use of modules, external packages management, system configuration and installation commands
Understand the system's introspection
Pass parameters to the compiler and write specific commands (macros, functions)

Installation of libraries
Packaging with CPack

Introduction to the packaging tool: CPack (provided with CMake)
Quickly and efficiently package applications on multiple platforms: Windows, Mac, Linux (Debian installers and Yum)

Writing unit tests with CTest

Advanced presentation of the tool handling unit tests: CTest
Quickly and easily test applications and algorithms
Coverage and dynamic analysis
Integration of CTest with other testing framework
Day 2
CMake Modern Best Practices

How to convert legacy CMake to modern CMake
Best practices with the target-based approach
Dealing with internal and external libraries

Advanced CMake

Advanced CMake command for efficient compilation
Concept of cross-compilation
Cross-compilation
Tips to improve your CMake scripts

Continuous Integration with CDash

Implement a continuous integration system prototype
Send unit tests to the CDash website
Maintains a global overview of the software quality
Unique CDash features: code coverage, memory analysis, client configuration
This training course will be taught in English. Course notes are also in English.
Participants are asked to bring a laptop computer for this training session.
The instructor will communicate all the specifications required to each participants before the training session.
Lunch is included.
Kitware SAS is registered as a training center in France
Practical Information
Duration: 2 days
Next training Date: October 3-4, 2022
Time zone: Paris (CET / GMT+1h)
Schedule: 9am to 5pm
Location: Online
Price: 1 500€
Company Training
All our training can be offered on site with a custom agenda. Contact us for more information.
About the instructor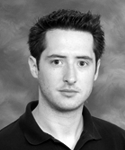 Julien Finet is a Technical Leader at Kitware Lyon.
At Kitware, Julien Finet has been an R&D engineer and a project manager on numerous projects related to Medical imaging (3D Slicer, ITK, DICOM…), Scientific Visualization (VTK, ParaView…), Computer Aided Design (CAD) and more recently over the Web (VTK.js, ParaViewWeb, React…).
At Kitware, Julien Finet has been involved in numerous projects for the Medical and Scientific Visualization departments(VTK, ITK, ParaView…). He notably was the technical lead for porting 3D Slicer to Qt. He has been a major developer on CTK and was leading the Bender project, a Slicer based application for repositioning voxelized anatomical models.