The Visualization Toolkit (VTK) is an open-source, freely available software system for 3D computer graphics, image processing and visualization. Initiated in 1993, the library is now available in version 8.2.0 and includes over 1,100 C++ classes.
This advanced training has been tailored for people who already have a basic knowledge of VTK but want to extend their expertise.
The training mixes theory and application with a set of tutorials and exercises.
Objectives
Development of new filters and readers
Using composite and temporal data
Parallel processing using VTK
Prerequisites
VTK: Basic understanding of the VTK library (Introduction to VTK training level)
C++ or Python: Good knowledge
Program
Writing readers and filters
Parallel processing with VTK
Composite and temporal data
This training course will be taught in English. Course notes are also in English.
Participants are asked to bring a laptop computer for this training session.
The instructor will communicate all the specifications required to each participants before the training session.
Lunch is included.
Kitware SAS is registered as a training center in France
Practical Information
Duration: 1 day
Next training Date: October 15, 2020
Location: Lyon, France
Price: 800€
Company Training
All our training can be offered on site with a custom agenda. Contact us for more information.
Meet the instructor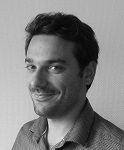 Michael is one of the main developers of VTK and ParaView.
Prior to joining Kitware, Michael was an R&D engineer at Dassault Systemes (in the Paris area) where his mainly worked on a physical simulation solver for mechanical simulation in CATIA and SOLIDWORKS, as well as on deformable object modeling and simulation.
Whith proficiency in C++, JavaScript, OpenGL and GPGPU, Michael mainly works with the visualization team at Kitware.