This online training covers in depth how CMake works and how to efficiently write CMake scripts for small to larger projects. These training is for programers and build system maintainers who would like to learn the best practices when writing CMake script and improve the maintenance and reliability of their build system.
This CMake training mixes theory and application with a set of tutorials.
Objectives
Configure simple and complex projects with CMake
Understand the basics of CMake (variables, cache, flow, etc.)
Get the best practices of modern CMake
Learn how to optimize your current CMake scripts
Prerequisites
C/C++ : Basic knowledge
Agenda
Getting Started with CMake

CMake history
Use the tool to configure projects in a totally cross platform manner
CMake's major features
CMake pipeline configuration

Setup projects with CMake

CMake syntax: variables, cache usage, and workflow management
Use of modules, external packages management, system configuration and installation commands
Understand the system's introspection
Pass parameters to the compiler and write specific commands (macros, functions)
Installation commands
CMake Best Practices

How to convert legacy CMake to modern CMake
Best practices with the target-based approach
Dealing with internal and external libraries

Advanced CMake

Advanced CMake commands for efficient compilation
Tips to improve your CMake scripts
This training course will be taught in English. 
The instructor will communicate all the specifications required to each participants before the training session.
Kitware SAS is registered as a training center in France
Practical Information
Duration: 1 day
Next Training Date: March 15, 2020
Time: 9h-17h (GMT +2 | Paris Time)
Location: Online
Price: 600€
Company Training
All our training can be offered on site with a custom agenda. Contact us for more information.
About the instructor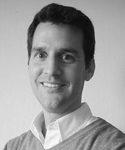 Julien Jomier is currently directing Kitware's European subsidiary in Lyon, France (Kitware SAS), where he focuses on European business development.
Julien received both his B.S. and M.S in Electrical Engineering and Information Processing in 2002 from the ESCPE-Lyon (France) and an M.S. in Computer Science from The University of North Carolina at Chapel Hill (UNC) in 2003. He worked on a variety of projects in the areas of parallel and distributed computing, mobile computing, image processing and visualization.
Julien is one of the main developers of CDash and a contributor to CMake and CTest. Julien is also an active developer and user of VTK and ParaView. Julien has more than 10 years' experience in visualization and image processing and has taught numerous training classes on ITK, VTK, ParaView and CMake at several major conferences and companies all over the world.